Debit Card Advantages And Disadvantages: A debit card is a card that is linked to the bank account of the cardholder and provides the cardholder electronic access to his bank account for financial transactions. When it gets activated by a personal identification number, it establishes the link to the cardholder's bank to transact funds. Therefore it has to be protected against theft or fraud to avoid misuse. The best use of this card is to withdraw money from the ATM. The card can be used instead of cash when making purchases at various retail points as well for online transactions.
The debit card is one of the most convenient ways for cashless transactions which avoids the issues related to cash handling. Debit cards ensure a convenient way of making payments anywhere in the world. It offers optimum levels of security by minimizing the chances of misuse and theft of cash.
Students can also find more Advantages and Disadvantages articles on events, persons, sports, technology, and many more.
What is a Debit Card? Advantages and Disadvantages of Debit Card 2022
A debit card is the best way for immediate money transactions at bank outlets or merchant sites.. A debit card is used as an alternative to traditional cash transactions. It helps to plan one's expenses and do responsible spending of one's own money within limits of the account balance. The cardholder uses his own money that is debited from the account and does not spend any money on credit as in credit cards. It is accepted internationally almost everywhere by merchants who have facilities for payment processing through debit cards. This also ensures making a successful withdrawal of money from bank outlets like ATMs. It helps to avoid handling cash transactions and makes instant fund transfers with much ease and safety.
Advantages of Debit Card
Alternative to Cash: Debit cards allow cashless money transactions as a convenient mode for payment and transfer. It helps to avoid handling a large amount of cash. It can be used for the purchases of goods and receipt of services by direct deduction of funds from the payee's bank account.
Prepaid Card: Debit card can be considered as a prepaid card for the cardholder's bank account and permits transactions for any amount to the extent of the available balance in the holder's bank account.
Nominal Fee: Banks charge a very nominal annual fee for issuing and maintaining debit cards. Such a fee gets automatically debited from the cardholder's bank account on yearly basis.
Easy to obtain: Debit cards can be easily obtained from the bank and can be activated for use.
Easy acceptability: Debit cards are accepted in a wide variety of merchant sites both within the country and abroad which makes it a convenient means of cashless transactions.
Immediate Transfer of Funds: Transaction with a debit card makes an immediate transfer of funds from the cardholder's bank account at the time of purchases of goods and receipts of services. It avoids any manual intervention or involvement of cash and saves time.
Instant Withdrawal of Cash: The cash withdrawal from an ATM using a debit card hardly takes any time and allows withdrawal of money from any location without visiting the bank premises.
Earns Bonus Points: Most banks offer bonus points to customers when they make purchases using their debit cards. These points can be redeemed by the cardholder as a certain amount to be credited to the account. Basically, after every successful payment at the merchant site through a debit card, the bank gets a percentage as commission from the merchant. This commission is further shared by the bank as a reward to the cardholder.
Helps in budgeting: Debit cards help to limit expenses within a budget by only allowing to spend what is in the account. It means it encourages the cardholders to operate within their means. When you start using a debit card instead of a credit card, it gives you a chance to stay within a budget.
Disadvantages of Debit Card
Unprotected against identity: Debit cards are protected only by a number known as the PIN that can be used for the transfer of funds. Anyone carrying the card can access the account if the PIN is known. So there is less protection against identity theft.
Limit of transaction: In most cases, there is a limit on the maximum amount that can be withdrawn or transferred by the customer. So debit cards are not very useful in the transaction of high amounts.
Terminal Dependent:  Merchants having an electronic device for card access can only allow transactions through debit cards. Again, a customer can access his account only from the place where the ATM facility is available.
Processing and maintenance charge: Banks charge cardholders with a processing fee for transactions with debit cards. There is a limit to the number of transactions within a certain period, beyond which charges will be levied. It is applicable for both cash and online transfer. This can be one of the disadvantages of a debit card if the amount required is considerably high. Moreover, processing charges will be credited from the account for use of the debit card at an ATM not affiliated with that bank. Banks might also charge maintenance fees for the debit card according to the terms and conditions of the account.
Limit to fund access: Debit card has access to fund only available in the bank account, which can slow down business. Credit cards facilitate easy cash flow by allowing spending more money that can be replenished later. But with debit cards, you are not allowed to spend beyond what you have in your account.
Security threat: Debit cards may be subject to potential frauds if not handled properly. One has to be aware of the various provisions and mechanisms for fraud protection.
Comparison Table for Advantages and Disadvantages of Debit Card
| | |
| --- | --- |
| Advantages | Disadvantages |
| It is a convenient way of purchasing using a contactless method or by swiping the card | A debit card has some limit of transaction amount beyond which extra charges are applicable |
| Debit cards offer safety by avoiding handling cash which can be subject to theft and fraud | Banks often charge processing fees for the withdrawal of funds from an ATM that is not affiliated with the bank of the cardholder. |
| Debit cards have easy accessibility in almost every merchant site for making the purchase | A debit card is useful only if there is an availability of terminals ready to accept debit cards. |
| Debit cards allow the immediate transfer of funds saving time and efforts | A debit card is protected by PIN only so there is a possibility of fraud if the PIN is known by someone other than the cardholder. |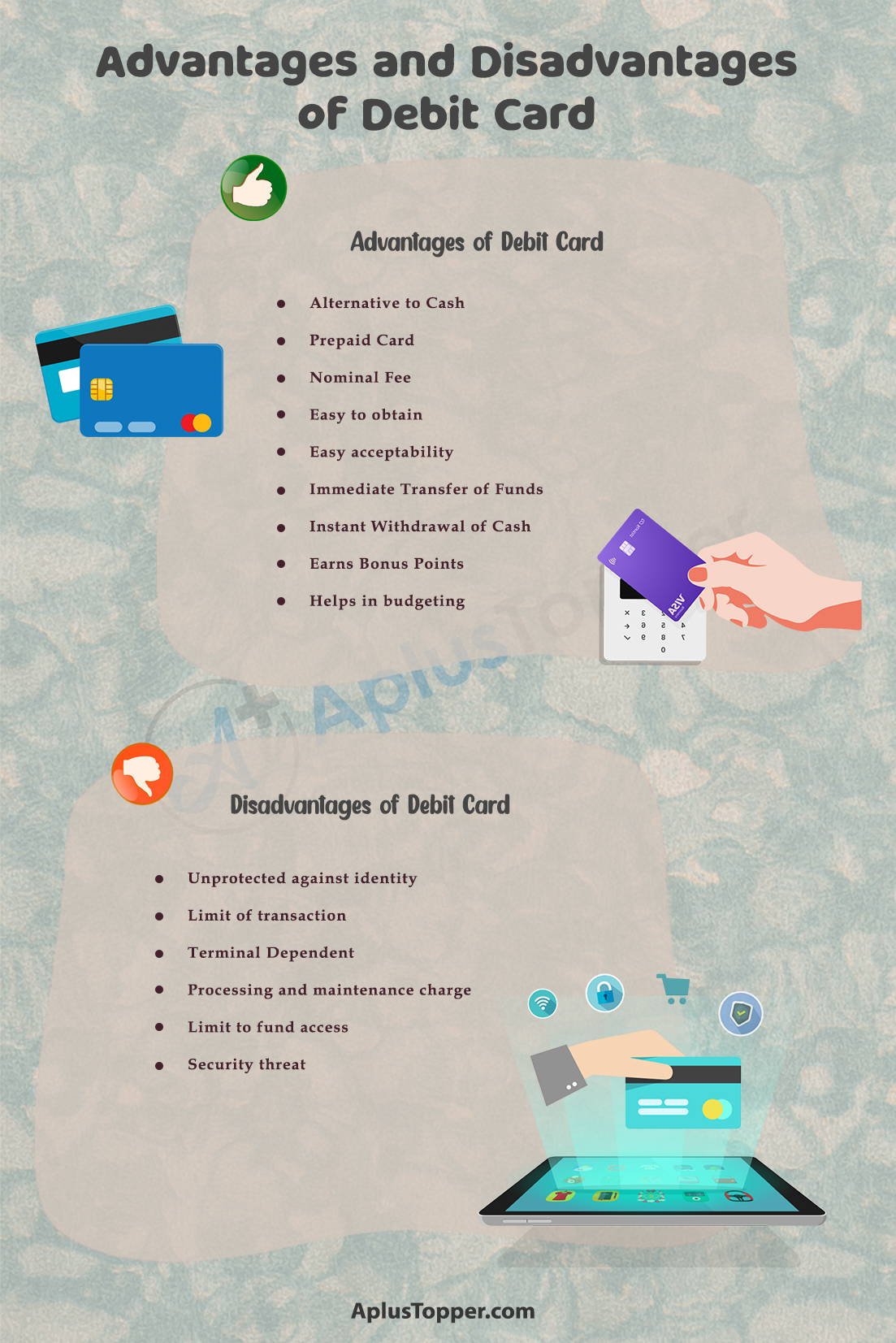 FAQ's on Debit Card Advantages And Disadvantages
Question 1.
What are the different uses of debit cards?
Answer:
Debit cards can be used for the withdrawal of cash from ATMs and making payments for products or services both offline and online.
Question 2.
What is the difference between debit card transactions and credit card transactions?
Answer:
Debit card transactions are limited to the amount of funds available in a bank account whereas credit card allows transactions of an amount that can later be credited to the bank account.
Question 3.
What are the charges to be paid for using debit cards?
Answer:
Banks charge a nominal fee yearly for maintaining the debit card. Apart from that, for transactions beyond a certain specified limit within a specific period, extra charges are applicable. For withdrawal of money from ATMs affiliated to other bank charges may also apply.