10 Lines on Narendra Modi: Narendra Modi, the current Prime Minister of India, was elected to the topmost position of the country in the year 2014 after a massive mandate of 273 plus seats for his party, Bhartiya Janata Party. He is considered as a flag bearer for the economic development of India and is a ray of hope for the country given the fact that the previous government, the United Progressive Alliance government, was in the midst of corruption scandals and nepotism.
Narendra Modi is also considered as a gladiator for the Hindu brigade in the country and has a massive fan following of the Hindu nationalists not just in India but around the world.
You can read more 10 Lines about articles, events, people, sports, technology many more.
Set 1 – 10 Lines on Narendra Modi for Kids
Set 1 is helpful for students of Classes 1, 2, 3, 4 and 5.
Narendra Modi is the 14th prime minister of India was elected in the year 2014
Before becoming the Prime Minister, Mr Narendra Modi was the chief minister of the state of Gujarat from the year 2001 to 2014
Narendra Modi was born in the year 1950 on the 17th of September
His father's name was Moolchand Modi and his mother is Heeraben Modi
Narendra Modi is widely popular because of his humble beginning as a tea seller in the railway station of Gujarat
Narendra Modi is one of the most popular prime ministers in India after Indira Gandhi and Rajiv Gandhi
He is known to take tough decisions to fight corruption and terrorism in India
Narendra Modi won his second term as the prime minister in 2019 with even more majority than what was obtained in the year 2014
His is the only government that has no strong opposition in the parliament
His humble begins as a tea seller makes him a loved leader by the people of India.
Set 2 – 10 Lines on Narendra Modi for School Students
Set 2 is helpful for students of Classes 6, 7 and 8.
Narendra Modi one of the most popular Prime Minister of India who rose to power after defeating the incumbent Indian National Congress which was corruption-ridden
Being the chief minister of Gujarat for more than 10 years, he is a seasonal politician and a very clever decision-maker
Narendra Modi was and is a member of Rashtriya Swayamsevak Sangh which is an ideological arm of BJP
Before getting into politics, Mr Narendra Modi was a tea seller in the railway stations in the state of Gujarat
His tenure includes certain tough decisions like goods and services tax and demonetisation
His decision to lockdown India to prevent the spread of coronavirus in the country is hailed by people all over the world
Narendra Modi has one of the highest followers on Twitter and Instagram among world leaders
Narendra Modi is also criticized by people across the world for his lack of interaction with the press and his right-wing ideology
Under the Prime Ministership of Minister Narendra Modi, communal rights and stigmas have increased around the world
Irrespective of his ups and downs the government, the popularity of Narendra Modi in India is as high as it was in the beginning
Set 3 – 10 Lines on Narendra Modi for Higher Class Students
Set 3 is helpful for students of Classes 9, 10, 11, 12 and Competitive Exams.
Narendra Modi and his Party BJP won the general elections of 2014 with a massive majority and he became the first Prime Minister in more than 10 years to have a full majority in the Assembly
Narendra Modi comes from Rashtriya Swayamsevak Sangh which has a controversial history of right-wing extremism and Hindutva ideologies
In the year 2014, Narendra Modi won the election and rode the election on the plank of development and economic progress
Narendra Modi is usually criticized for his failed leadership and role in the 2002 Godhra riots in Gujarat that killed hundreds of Muslims
It is under the Prime Ministership of Mr Narendra Modi that article 37o article 35a was abolished and helped in converting the state of Jammu and Kashmir into union territories
In the year 2016, Mr Narendra Modi demonetised Rs. 500 and Rs. 1000 notes in order to fight black money and terrorism
Narendra Modi and his party ideologies are known to stoke fire between majority and minority in the country resulting in a communal polarisation of the nation
Narendra Modi is widely popular among world leaders and he has travelled to a significant amount of countries around the world to improve India's international bilateral relationship
Mr Narendra Modi has also been criticized for his government's role in the Rafale Jet scam and the attempt to pass the citizenship amendment act bill
Past six years of Prime Minister Narendra Modi's regime has been filled with ups and downs but undoubtedly he is one of the most popular prime ministers India has seen in the recent times.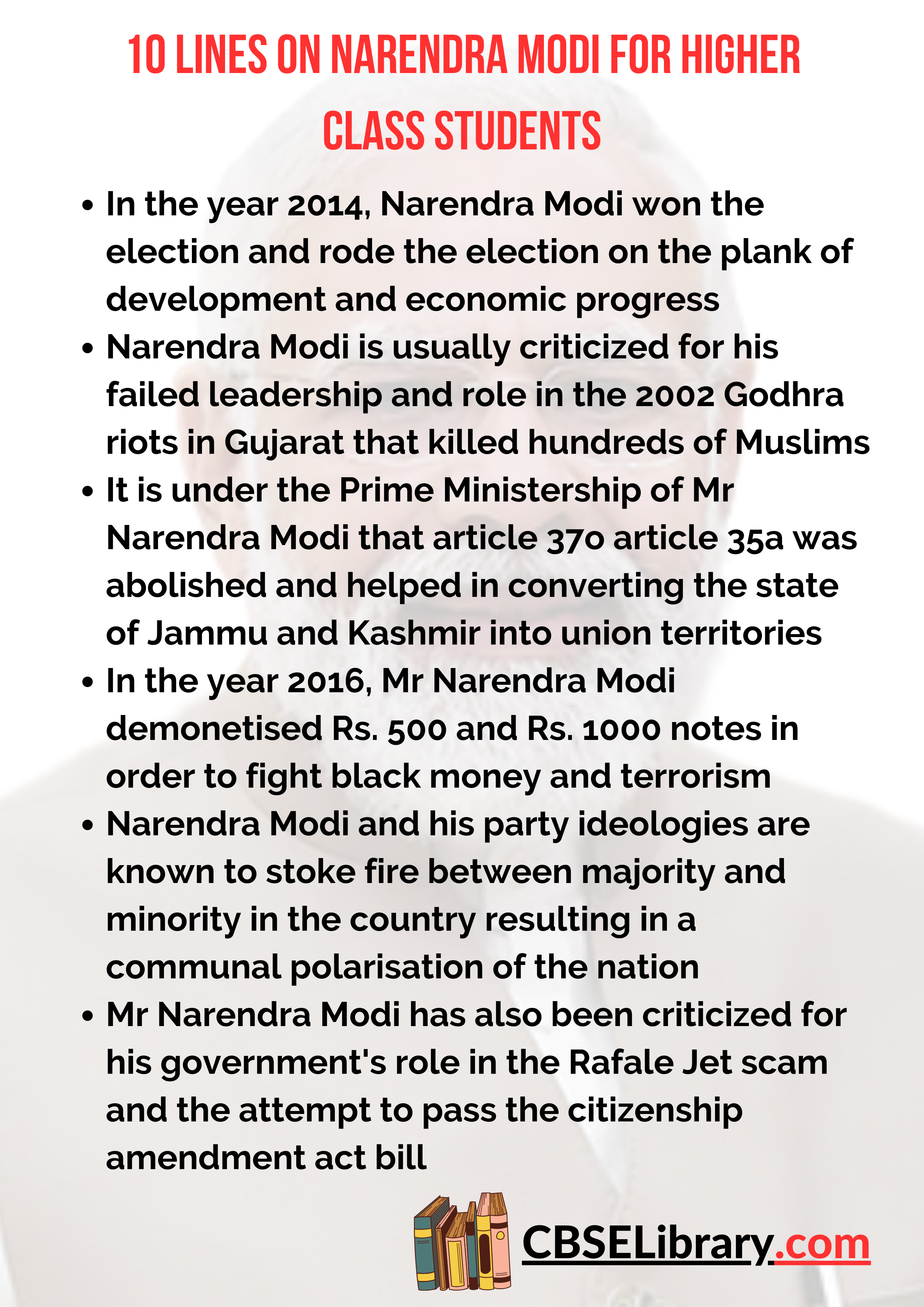 FAQ's on 10 Lines on Narendra Modi
Question 1.
When did Narendra Modi enter politics?
Answer:
Narendra Modi entered politics when he was in RSS and was assigned certain tasks by the BJP. He became the party secretary for BJP in the year 1994 under the assistance of LK Advani
Question 2.
Why is Narendra Modi such a popular leader in India?
Answer:
Narendra Modi's popularity comes from the fact that he has humble beginnings and has a hardcore Hindutva ideology and the majority people  of the country rallies behind him and believes in his ideologies
Question 3.
Has Narendra Modi's leadership been a success in the last 6 years?
Answer:
From taking tough decisions such as abrogation of article 370 and article 35a, introducing GST and improving India's relationship with neighbouring countries, Narendra Modi's leadership has proved to be more or less successful except in a few matters
Question 4.
What are the few criticisms of Prime Minister Narendra Modi?
Answer:
His government's handling of the migrant crisis during the COVID-19 pandemic, the introduction of CAA bill and the hasty implementation of demonetisation was highly criticized by opposition leaders in India and people around the world