A New Combined History & Civics for Class 8 ICSE Solutions World as a Global Community


These Solutions are part of A New Combined History & Civics for Class 8 ICSE Solutions  Here we have given. A New Combined History & Civics for Class 8 ICSE Solutions World as a Global Community.

EXERCISES
I. Answer the following questions in 20-30 words each :
Question 1.
What do you mean by the concept of interdependence?
Answer:
Concept of interdependence is derived from the interrelationship of global existence. Each and every event, thought, discovery and new trend in any part of the world may affect any part or place within the world. This interdependence makes every human being conscious of his standard with respect to the whole world.
Question 2.
With which countries of the world India has important trade relations ?
Answer:
The countries to which India exports items are Russia, Britain, Japan, New Zealand, West Germany France, Sri Lanka, Bangla Desh, etc.
The countries from which India imports items are U.S.A., Russia, U.K., West Germany, Iran Saudi Arabia, France, Canada, Belgium, Malaysia, Italy, Netherlands, Singapore, Australia.
Question 3.
What are environmental concerns ?
Answer:
Environment plays indispensable part in human life and his occupations : although some natural hazards like floods, earthquakes, landslides, etc., greatly affect human life. But on the other hand man himself creates problem by misuse of environment e.g. deforestation for settlement and cultivation, construction of dams, roads, over grazing, nuclear tests. Over population is also the cause of degradation of the environment.
Question 4.
What do you mean by globalization ?
Answer:
Globalization means coming closer of different countries of the world in the social, cultural, technological and particularly in the economic field. In fact, the modem age, each and every part of the world is dependent on each other in various aspects in order to experience better living resources and the level of development. Globalization is an ideal process, by which many countries may be self sufficient by export and import trade and increase the economic growth and standard of living.
Question 5.
Define disarmament.
Answer:
Disarmament is the destruction of arm the deadly arms and weapons which may destroy the whole mankind of this earth.
Disarmament is the biggest need of present time, as the money applied in the manufacture of arms may be helpful in solving the poverty, unemployment and sickness, etc.
II. Answer the following questions in 50-60 words each :
Question 1.
What is the impact of overpopulation ? Discuss any two measures to check it.
Answer:
Overpopulation is a big problem which is disturbing the ecological system of the earth. It gives way to heavy consumption of resources, deforestation, need for multi-purpose projects, decreasing soil fertility, shortage of food and raw materials, exhaustion of minerals and various hazards like air and water pollution, floods, poverty, etc. Overpopulation may be checked by proper family planning, scientific education and intensive farming for more production for getting better food production and ideal nutrition. For increasing industries we have to work hard for better planning which may provide better jobs to growing population.
Question 2.
Narrate the different causes of poverty and hunger.
Answer:
The problem of poverty and hunger are prevalent in the developing and under-developed countries e.g. India, China, Indonesia and African countries; some of them had been the colonial countries exploited for their natural resources. Due to lack of finance and technology these countries are economically backward with low per capita income. In this way, they have to face the problems of poverty, hunger and malnutrition which result in poor health and high death rate. Other causes are illiteracy, overpopulation, backwardness in industry and agriculture, etc.
Question 3.
Why is the need to check environmental degradation ?
Answer:
Environmental degradation may lead to very dangerous
consequences which may be impossible to control. So, it is indispensable to take proper steps to check this serious hazard. We should balance our needs and check deforestation, otherwise, there will be air-pollution, landslides, soil-erosion and floods, etc. It is necessary to check over population by family planning and education trends. Air-pollution by factories should be checked and chemical wastes and garbage should not be thrown into the rivers or ponds. People should be made conscious of checking environmental degradation.
Question 4.
Give two arguments in favour and two against globalization.
Answer:
Globalization promotes industrial development by exchanging the raw materials and manufactured goods. Besides this International Monetary-Fund, World Bank, WTO, all help in this field. Another favour is in the field of increasing the living standards and incomes.
Arguments against this are the over exploitation of resources of developing and under-developed countries by the developed countries. Developed countries try to locate polluting industries in poor countries and also exploit the large market by exporting goods to these countries.
Question 5.
Why is disarmament very necessary ?
Answer:
Mostly the nuclear weapons, bombs are manufactured to destroy enemy countries, but their use may harm the larger areas or the whole world and destroy man power e.g. in
Hiroshima and Nagasaki cases in Japan. In these weapons, millions of dollars are being spent, otherwise this money can be applied to solve the health problems in medication, agricultural and industrial developments which may support humanity and environment. It is estimated that in 1980, about ?6000 cores were spent on arms by various countries. It is the criminal waste of resources.
III. Fill in the blanks :
The advancement of the means of transport and communication developed the concept of interdependence.
India exports jute manufactures and cotton fabrics to other countries.
India imports cereals and crude rubber from other countries.
33% of the total land of every country should be under
The Industrial Revolution has polluted the environment.
IV. Match the Following: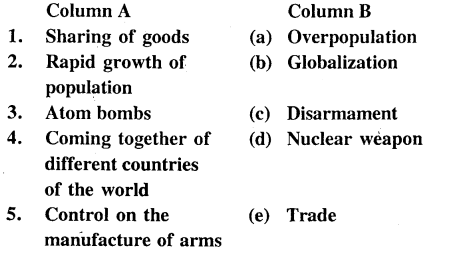 Answer:

A. Fill in the blanks.
1. Globalization involves breaking down of Tarrif barriers. It allows free flow of raw material and good, across borders.
2. Globalization encourages Healthy, competition for mutual, benefit and promotes trade.
3. The most visible disadvantage of globalization is the great gap between the Rich and the poor
4. Multinational companies avail of Cheap labour which is readily available in developing countries and make enormous profit
5. Terrorism is no longer a Regional problem.
B. Match the Following.


Answer:


C. Answer the following questions.
Question 1.
What is meant by the term 'globalization'?
Answer:
Globalization means linking the economy of a country with the economies of other countries by. means of free trade, free mobility of capital and labour etc. It also means inviting multinational corporations to invest in India. It means that there will be unrestricted flow of goods and services, capital, people, technology and expertise among different countries of the world. The ultimate goal of globalisation is to look upon the world as a global village.
Question 2.
Mention some important features of globalization.
Answer:
Globalization involves the removal of trade barriers and restrictions, and encourages liberalization, privatization and free-market economies. It encourages healthy competition for mutual benefit and promotes trade. This economic cooperation translates into social and cultural understanding and peaceful co-existence.
Question 3.
What are (1) the benefits and (2) the drawbacks of globalization?
Answer:
Benefits of Globalization :
Expansion of market Globalization has expanded the size of market. It has permitted Indian business units to expand their business in the whole' world. Now Multi National Corporations have no national boundaries. Indian companies like Infosys, Tata Consultancy, Wipro, Tata Steel, Reliance etc are doing their business in many countries.
Technological Development Globalisation has enabled the inflow of foreign technology, which is very superior and advanced. Now Indian business units use this modem technology.
Brand development Globalisation has promoted the use of branded goods. Now not only durable goods are branded but products like garments, juices, snacks, food grains etc are also branded Foreign brands are very popular among Indian consumers. Brand development has led to quality improvement.
 Increase in Employment Globalization has promoted employment opportunities. Establishment of trading units in India has increased employment opportunities for Indians e.g. many Indians are presently employed in foreign insurance companies mobile companies etc.
Improvement in standard of living As a result of globalization the standard of living has improved. People get better quality goods at lower prices of many product particularly electronic items like television. AC, Mobile Phone etc.
Drawbacks of globalization
Unemployment. With the increasing use of computers and automatic machine in MNCs., employment avenues are reduced.
Exploitation of labour – Unskilled labour get low wages, less job security, long working hours People have to work even in these conditions because bad job and less wages are better than no jobs.
Demonstration effect – Many people are using luxury goods by imitating others and has promoted the tendency of wasteful consumption in India. This wasteful expenditure has in turn reduced savings of the people.
Dominance of foreign institutions With globalisation dominance of foreign institutions has increased in India. It has helped foreign companies in enlarging their market share.
Question 4.
Why is terrorism no longer a regional problem?
Answer:
The 20th century terrorism is an organized system of violence
and intimidation . It is increasingly being used to settle scores. Terrorism is no longer a regional problem. The terrorist outfits operating in the world do not work in isolation. Terrorism has assumed global proportions. Its tentacles have spread all over the world and like a cancerous growth, it is corrosive and consuming-threatening the very existence of humankind today.
Question 5.
How can we curb terrorism?
Answer:
Terrorism is the use of terror or violence against governments, individuals or the public to achieve certain objectives. There is no way to eliminate terrorism but some solutions may still prove valid. It can be curbed by the reduction of poverty, increased military spending and defence, security and surveillence, democracy, intelligence etc.
D. State whether the following are true or false.
Globalization involves imposition of trade barriers.
False.
Reason Globalization involves breaking down of trade barriers.
The path to progress in today's world lies in following a policy of isolation.
False.
Reason The path to progress in today's world lies in following a policy of globalization.
The Indian toy industry is facing stiff competition from the Chinese toy industry.
True.
The 11 September 2001 attack on the World Trade Centre and the Pentagon shocked the entire world and became an issue of global concern.
True.
Efforts should be made at the international level to curb terrorism.
True.
More resources for ICSE Class 8
Hope given A New Combined History & Civics for Class 8 ICSE Solutions World as a Global Community are helpful to complete your  homework.
If you have any doubts, please comment below. APlusTopper try to provide online tutoring for you.