Smartphone Advantages And Disadvantages: A smartphone is a portable electronic device that provides a connection to a cellular network and the internet. They are friendly gadgets that have made everything reachable through one touch. As of March 2022, the number of smartphone users worldwide today is 6.648 Billion which means 83.72% of the world's population owns a smartphone. Smartphones are now part of our everyday lives.
Students can also find more Advantages and Disadvantages articles on events, persons, sports, technology, and many more.
What is a Smart Phone? Advantages and Disadvantages of Smart Phone
A smartphone is a phone which does more than call or sends text messages. It works just like a computer. We can browse the internet and get a lot of information in one touch. Their App store has Apps related to games, personal use, and business use. The best use of a smartphone is, it comes with GPS capability for location and navigation. A smartphone has virtual assistants such as Siri, Google Assistant, or Cortana.
Smartphone Advantages
Education: Smartphones do support education. Students can browse the related topics and get vital information on the same. They can also watch helpful videos related to their studies. The COVID-19 had resulted in schools shut all across the world due to which many students had to depend on smartphones to attend their online classes.
Entertainment: You entertain yourself with games, music, or movies. You can always be available on social websites such as Facebook, WhatsApp, Instagram, Twitter, etc. to connect with your friends and families.
Privacy: Smartphone helps you to save the concerned information and protect it. You can send secure e-mails and messages. You can either use a pin code or fingerprint to secure your phone. Banking has become as easy as your one touch.
Communication: A smartphone does more than just text or make calls. You can send voice notes, group chat, make video calls, attend meetings irrespective of your location.
Useful Apps: You can browse and download multiple applications via Apple App Store or Google Play Store. As per the latest record, Android users can choose between 3.48 million apps on the Google Play store and 2.22 million apps on the Apple App Store.
Disadvantages of Smartphone
Health: Playing games, watching movies on your smartphones on a bright screen will always result in eye-related issues. Also, prolonged use of smartphones can lead to overextending nerves called "cell phone elbow."
Addiction/Contagious: Children at a young age are getting addicted to games, so it's pretty difficult for them to get out of the addiction. For most of us, the first thing to do as soon as we wake up is to watch out for new notifications.
Cost: Currently, it has become a trend to own a high-end device. Whenever a new version arrives, people tend to spend more money and like to get themselves upgraded.
Risk of Data: Even though our phones are password protected or fingerprint protected, we must be cautious about our secured data loss if the phone is lost or stolen. While doing some bank transactions it must be highly secured and don't allow anyone to access our phones.
Family Time: Most of us spend more time browsing, scrolling, or chatting and forget about precious family time. These days, parents are spending more time on smartphones than on their kids. Such behavior leads to depression and conflict in their relationships. Sad but true!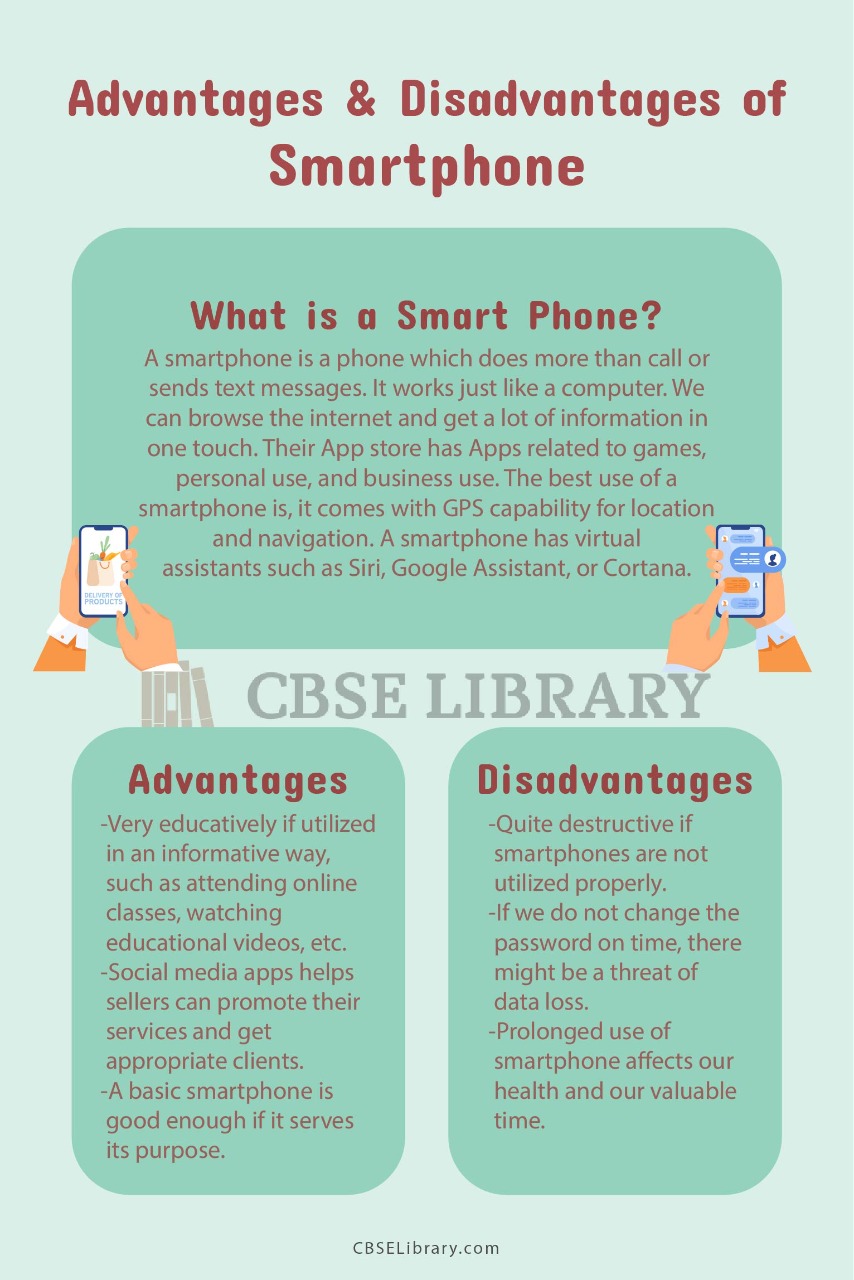 Comparison Table for Advantages and Disadvantages of Smartphone
| | |
| --- | --- |
| Very educatively if utilized in an informative way, such as attending online classes, watching educational videos, etc. | Quite destructive if smartphones are not utilized properly. Kids and teens must be guided on the dos and don'ts by their parents accordingly. |
| Social media apps like Facebook, WhatsApp, and Instagram provide entertainment along with which sellers can promote their services and get appropriate clients. | If we do not change the password on time, there might be a threat of data loss. Entertaining unknown friend requests and sharing personal details are not safe. |
| A basic smartphone is good enough if it serves its purpose. | Over usage of smartphone affect their battery life. Prolonged use of it affects our health and our valuable time. Spending too much on high-end devices causes wastage of money. |
FAQ's on Smartphone Advantages And Disadvantages
Question 1.
What are the different uses of smartphones?
Answer:
Some of its uses include searching for information, connecting friends and families, taking pictures, creating videos, etc.
Question 2.
What is the difference between a cell phone and a smartphone?
Answer:
A smartphone is nothing but a cell phone with some advanced features. Smartphones include multiple Apps which allow a user to play games, access the internet, and also consist of digital assistants like Google Assistant or Siri however; it's not possible on the cell phone.