Laptop Vs Desktop Advantages and Disadvantages: Both laptops and desktops are widely used all over the world, but choosing between both computers is sometimes difficult. Both laptops and desktops have their own features and can be used according to the user's needs. Laptops are more portable and flexible whereas desktops give the ability to customize the system accessories. Both laptops and desktop have their advantages and disadvantages and here we are going to discuss their cost, flexibility, storage, etc so that we can understand the difference and which system is better for which type of user.
Students can also find more Advantages and Disadvantages articles on events, persons, sports, technology, and many more.
What are laptops and desktops? Laptop vs Desktop Advantages and Disadvantages 2022
Laptop computers are one of the best innovations according to the modern times where everyone can easily access and work where ever they want. The size is small and no other accessory is attached to it so it is easily used the travel without the internet since it uses a battery. Laptop demand is growing more because of its flexibility. All the parts of the computer in the laptop are built-in including the monitor, processor, speaker, keyboard and mouse which make it easy to handle and can be used wherever we want. Laptops come in attractive models and inbuilt different configurations.it is a light weighted and a good alternative option to heavy desktops. There are different categories of laptops such as
Notebook
Ultrabook
Tablets
Desktop laptops
A desktop computer has lots of attached accessories like a mouse, keyboard, monitor, etc which is the best part because we can use it as we want and assemble it according to our requirements. But due to its size and many attachments, it is difficult to take it on travel thus it is not easy to move from one place to other. And the best thing is all the new technology is first put in desktops only. Though its size may vary the attachments remain the same. It comes in many sizes and designs and different configurations.
Both laptops and desktops are useful only some of the features are there which make that difference that tends to make the main difference between the advantages and disadvantages of laptops Vs desktops. Now let us look at the advantages of laptop vs desktop and the disadvantages of laptop vs desktop.
Advantages of Laptop and Desktop
Laptop Advantages
Laptop computers are used by professionals, students, and homemakers for various work. A laptop is portable so it is highly used in almost all types of work fields like market-driven research, various projects, and studies and thus highly in demand. Here are some of the advantages of using a laptop
Portability: Laptop is compact and wireless thus it is easy to carry them wherever we want and use them. This is the main advantage of a laptop which is very helpful in many professional fields.
Inbuilt Battery: The laptop has a battery that is inbuilt so it is easy to use without a continuous electricity supply for a long time after charging the battery.
Fast Processing: All the laptops nowadays are loaded with the latest technologies and all the versions are up to date which helps in doing any task very fast and conveniently.
Category option: There are many types of laptops like tablets, notebooks, and ultrabooks which are very useful and can easily be portable so that we can use the option according to the need of the task.
Desktop Advantages
Desktop computers are the basic and were more used machine as it is easy to use and also not that costly. As the use of desktops is declined but still, many professionals and students are using them regularly thus every year desktop production is still processing. Here are some advantages of desktops
Easy to Understand: Desktops are simple to understand as all the accessories are visible and also user-friendly. It is not complicated and if any problem erupts it can be corrected.
Wide Monitor Range: The desktop monitor comes in different sizes and in place of a monitor it can use a television screen that gives the special benefit of the desktop.
Lower Cost: Desktops are affordable as their cost is less. Even all the parts of desktops are affordable. If damaged or repair is needed then it also cost less.
Processor: It has the latest processor which is very efficient and also when any new processor is launched then it is firstly accessible on desktops.
Disadvantages of Laptop and Desktop
Laptop Disadvantages
The laptop is efficient and easy to manage as it is portable and becoming more popular. But there are some disadvantages of laptops that are as follows
Battery issue: Laptops are used without a continuous supply of electricity. Thus the battery gets damaged easily and thus it is the weak point in laptops and cannot work for hours.
High cost: All the laptops are costlier than desktops. Even if the little less configured laptop cost is high.
Maintenance: Maintenance of laptops is comparable more because their parts are costly and are not easily available every time in the market. Also, theft can be an issue as it is carried everywhere.
Desktop Disadvantages
Desktops give the ability to customize the system accessories which is the best advantage of a desktop but some of the disadvantages of the desktop are as follows
Portability: Desktop cannot be moved everywhere it is stationary which is a drawback of the desktop. We cannot use it if we want to take it with us to any workplace.
Battery Availability: Since it is dependent on a continuous electric supply which gives power to the battery so it is always dependent on the power supply without this it cannot continue to work.
All the Accessories are Required: Desktop cannot function if any of its parts are not attached such as the monitor, keyboard or mouse are important parts of the desktop without them they cannot process any input.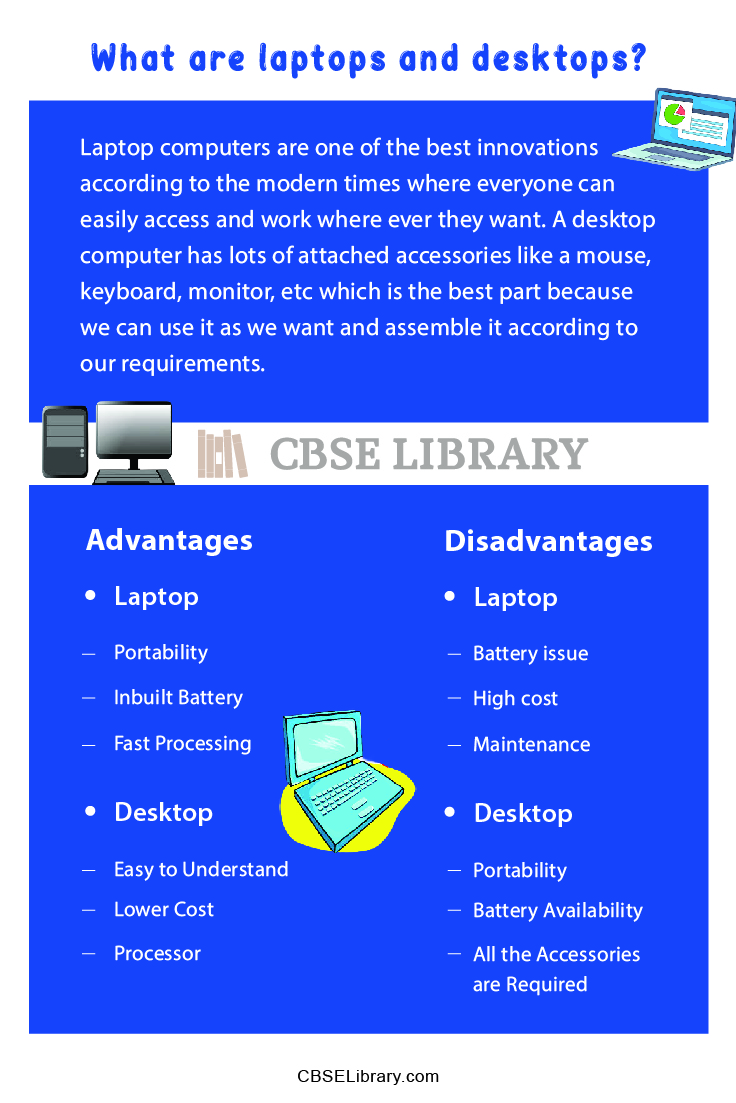 Comparison Table Between Laptop Vs Desktop Advantages and Disadvantages
| | |
| --- | --- |
| Laptop Vs Desktop Advantages | Laptop Vs Desktop Disadvantages |
| The laptop is portable and Desktops are easy to use | Laptops are costly and desktops are stationary |
| The laptop has a battery power supply and the Desktop is affordable | Laptops can run only full battery supply and desktops need a continuous power supply |
| Laptops are fast processing and desktop are easy to maintain | Laptops are high Maintenence and Desktop need all parts compulsorily to work |
| Laptops come in various categories and Desktop gives the advantage to upgrade accessories | Laptops are delicate and desktops cannot be carried everywhere |
| The laptop is widely used and desktops are more conveniently used | Laptop parts are costly and Desktop are becoming unpopular |
FAQs on Laptop Vs Desktop Pros and Cons
Question 1.
Which is better Laptop or Desktop?
Answer:
Laptops are more portable and flexible whereas desktops give the ability to customize the system accessories. The laptop has a battery power supply and desktops need a continuous power supply. Laptops are costly and desktops are easy to maintain.
On comparing both laptops and desktops we can see that both have different advantages and while choosing between both of them we have to first understand our requirements and according to that we can easily choose which is better.
Question 2.
What are the disadvantages of a Laptop?
Answer:
The drawbacks of the laptop are as follows:
The cost of a laptop is higher
It needs a full battery charged to run the system
Maintainance is high
Question 3.
What are the drawbacks of Using a Desktop?
Answer:
Here are some disadvantages of using a desktop
The desktop cannot run without a power supply
All the accessories are required like a keyboard or monitor
It is not portable