Bank letter format: Bank plays a very important role in maintaining the living standards of people by managing daily money basis transactions like net banking, using ATMs, loans, etc. Everyone has one or many bank accounts that need to be maintained by a specific format provided by the bank. Nowadays, many of the bank operations can be done online but still some of the basic actions must be done only by visiting the bank. From opening a bank account to closing a bank account there are many procedures are followed in a specific format.
Issuing bank statements, re-issuing ATM cards, issuing checkbooks, or any mistake in your address and name, etc are some operations that need a bank visit with a formal letter. We have to write an application addressing mainly the bank manager for any of the actions that we need to be done and not possible online. Most of the processes are done by a bank formal letter since it a totally official so there is a particular format to write an application. Sometimes depending on the bank, the bank letters can be submitted online but in most cases, it is done by visiting the bank and in both cases, the letter should be officially written as it is totally office work.
Get Other Types of Letter Writing like Formal, Informal and Different Types of Letter Writing Samples.
What is a Bank Letter? How the Bank Letter is written? Bank Letter Format, Samples
A bank letter is an official letter that is to be written in a particular official format such as banks addresses, the addressee, subject (to the exact point), explanation of the matter, bank account number, account holder name, contact information, and signature. This is the format of the Bank letter which should contain all these elements and must not be avoided. The main component of the bank letter is to provide confirmation from the bank that you operate a business account in the bank. A bank letter must also include information about your business like bank letterhead, account number, routing number, business name.
The following are various needs to write a letter to the bank is or give an application are:
Issuing bank statement
Issuing checkbook
Re-issuing ATM cards
Issuing loan
Want correction in the bank account name and address
Submitting documents such as a home address, etc
Request to transfer bank account from one branch to another branch
Bank reference
To write a bank letter is necessary guidelines must be followed. Let us have an overview of the bank letter format.
How to Write a Bank Letter?
Different types of letters are written mostly to the Bank manager in a particular format. Here are a few points with proper guidelines that must be remembered while writing a letter to the Bank Manager:
Firstly write the name of the bank and branch name with the address
Write a subject line that must be highlighted
The customer's name must be according to bank records
The unnecessary matter must be avoided
Account number and account name must be included
Write in a professional way with proper grammar and punctuation
All the necessary documents should be attached with signature
The above-given steps are the basic format to write any bank letter. We have to write it professionally and try to avoid unnecessary writing.
Bank Letter Format
The following given Template/ Format is a commonly used format for writing an application to Bank Manager for any condition or operation
To,

The Bank Manager,

ABC Bank(Name of the bank)

(Branch Name)

Address

Subject: (Precise and to the point subject line)

Respected Sir/Madam

(Body of the letter) write neat and properly explain the subject of the letter. Provide supporting documents if it is needed as per the reason.

Regards,

(Bank Account details: Bank Account Number and Bank Account name)

(signature)

Date :

Place:
Formal Bank Letter Format/Samples
The following is the sample bank letter for requesting issuing cheque book.
To,

The Bank Manager,

Karnataka Bank,

Bellandur outer,

Ring road,

Bangalore, Karnataka

Pin: 560103

Subject: issuing cheque book

Respected sir,

I am an account holder in your bank from the past two years, my account number is 2015548657**2516. I am this letter to request you provide me with a cheque book with 50 leaves as I usually pay my clients through cheque. Please process my request as soon as possible as my payment is pending.

All the important documents are attached to the application. kindly issue 50 leaves cheque book at the earliest.

Regards,

Satyam Singh,

Account number: 2015548657**2516

(signature)

Date: 23/03/2022

Place: Bangalore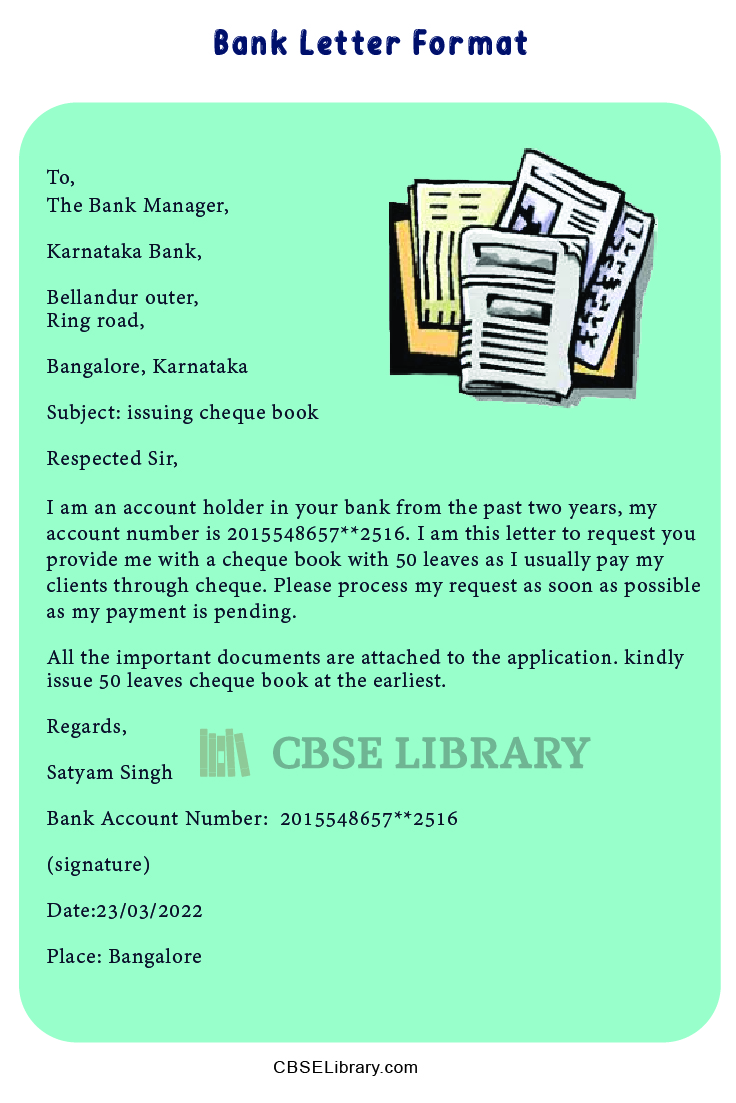 The above was the example of a bank letter addressed to the bank manager for issuing cheque book, as it can be seen the subject and the body was written to the point and not unnecessarily exaggerated.
Here is an example of closing a bank account and transferring funds with the above given same format
Bank Account and Transferring Funds
To,

The Bank Manager,

Union Bank of India,

583/584, pooja complex,

Avenue road

Banglore, Karnataka

Subject: application to close the account and fund transfer

Respected Sir,

I have a saving account in your bank with account number 32005466****9685. Due to my job transfer, I have moved to another city and will not be able to operate the account in the future. I request you to close the account and transfer the funds to my new savings account. The details of the new savings account are given below

Account holder name: Vivek Gupta

Account number: 32568874****2203

Bank name: union bank of India

Address: Neb Sarai, Newdelhi

I have attached the documents with the application. Kindly process the request as soon as possible.

Regards,

Vivek Singh

Bank Account  Number: 32005466****9685

(signature)

Date: 23/03/2022

Place: Banglore
Now let us see an example of a bank letter written for getting a Bank Reference. This type of letter is written by bankers which are in a different format. This letter must be typed on bank letterhead only. This is for customers' reference by the bank.
Bank Reference Letter
Date: 23/30/2022

Ashish Singh,

Om textile industries,

Mumbai, Maharashtra

Re: Mr. Vinay Patil, Account number: 22556005126655**

Dear Mr. Ashish Singh,

At the request of Mr.Vinay Patil, we are pleased to inform you that he is the most valued customer of our bank since 2014. He is maintaining a total deposit of Rs 5,00,000 and at present, he is having an average balance of Rs 1,50,000 in the account for the past three months.

He has maintained a good relationship with us without any issues. Therefore he will also honestly manage the financial duty with your company.

sincerely,

Jai Mehta,

Bank manager

Yes bank

Mumbai, Maharashtra
There are many types of bank letters which are written in the format given above. The main elements are given in format accordingly we have to maintain the official letter. The basic format must always be followed with all the Grammarly requirements and the letter must be to the point.
FAQ's on Bank Letter Format
Question 1.
How to write a Bank Letter? What type of format must be followed?
Answer:
There are a few steps that must be folwed to write a formal Bank request Letter that is:
Address to Bank manager with branch name and address
Subject must be to the point and clear
Body of the letter should clear with proper explanation
Bank details such as account number and account holder name should be added
All the documents must be attached accordingly
Letter should be ended with gratitude and closing
Question 2.
How to write bank letter for reference?
Answer:
A bank letter is an official letter that is to be written in a particular official format such as banks addresses, the addressee(to whom may concern), reference account holder name, explanation of the matter, bank account number, account holder name, contact information, and signature. On request, this is provided by the bank and only written on the letterhead or bank stationery.
Question 3.
How to write a bank letter asking for a bank statement?
Answer:
To know the bank statement account holder has to write an application addressing to branch manager of the bank to get a copy of the bank statement of the account in the bank.
In the below-given format, we can request for issuing bank statement
To,

The Bank Manager,

ABC Bank(Name of the bank)

(Branch Name)

Address

Subject: Issuing Bank statement

Respected Sir/Madam,

I have a saving account in your bank with account number 212158896*****10. I request you to issue a bank account statement from January 2022 to March 2022.

I have attached documents if you need any details please contact me for further, I will be happy to assist you with the process. Kindly process the request to the earliest.

Regards,

(Bank Account details: Bank Account Number and Bank Account name)

(signature)

Date :

Place: