Advantages and Disadvantages of Verbal Communication: Communication is an integral aspect of society. Without communication, people would be unable to express themselves. Communication is inextricably interlinked with self-expression and the right to speech. Hence, without communication, there would be no place for expressing one's opinion.
In several sections of society, individuals feel secure when conveying their thoughts to other people successfully and effectively through communication, whether verbal or non-verbal. Verbal communication is more prevalent in today's society.
Students can also find more Advantages and Disadvantages articles on events, persons, sports, technology, and many more.
In various social settings, individuals need to convey their thoughts, opinions, and concerns to the individuals around them, forming a solid basis for communications and building social relationships.
Verbal communications are easier to hold. They save time and are more powerful owing to the emotions at play while someone talks. The feedback loop is more expressive, and there is an economic base to it. The tone of Verbal Communication is simple to read.
What is Verbal Communication? Advantages and Disadvantages of Verbal Communication 2021
Communication is a two-way method through which opinions, information, thoughts, ideas, and feelings, are exchanged between different individuals via the application of the commonly recognised symbols and signs. Communication is an essential constituent for the economic prosperity of any business.
Communication can be of various types depending on the pattern of expression and the signs or symbols used. One of these types is Verbal Communication.
Verbal Communication is a sort of vocal Communication through which a specific message gets transmitted by spoken words to the listener. In this type of communication, the sender gives a verbal form to their personal feelings, opinions, ideas and thoughts and displays them in a speech, conversation, etc.
The successful effect of Verbal Communication depends primarily on the speaker's tone. Other factors include precision of speech, speed, volume, body language and words utilised in the specific conversation.
Verbal Communication includes an immediate feedback mechanism since both the speaker and listener have a synchronous transmission and reception of the original message.
The Four Major Types of Verbal Communication
Interpersonal Verbal Communication: This type of verbal communication is practised only between two individuals. Thus it can also be termed as a 'one-to-one conversation.'
Intrapersonal Verbal Communication: This type of verbal communication is practised with great privacy. This type of communication is strictly restricted to ourselves.
Small-Group Verbal Communication: This type of Verbal communication can be held at any place only if more than two individuals are present during the conversation.
Public Verbal Communication: We can hold this type of Verbal communication at any place where one individual has the role of addressing a larger audience.
Advantages of Verbal Communication
Time-Saver: With the method of verbal communication, tasks can be efficiently dealt with. Verbal communication saves time and helps us complete jobs within a few minutes by avoiding other lengthy procedures. Through Verbal communication, you can convey your thoughts or instructions at your regulated speed and not wait on such tasks that are to be completed. This method can help you communicate better with others as well as understand what they have to say.
Quick Feedback: Feedbacks are necessary for any social scenario where communication is involved. By utilising verbal communication, you will be able to produce quick feedback to the hosts' original message. In the case of doubts or questions, verbal communication helps clarify them much faster than any other method of communication.
Convenient: Verbal communication is the most widely accepted method of communication. Individuals worldwide prefer verbal communication over other variance of communication due to its convenience. Verbal communication makes language and oral comprehensions more straightforward and understandable.
Ease preparation: Any individuals who know how to convey their thoughts into words need to prepare the least in the case of verbal communication. It is one of the most simple types of communication which does not involve any material to convey the intended message and are the easiest to conduct.
Privacy: Verbal communication ensures privacy to individuals to maintain the secrecy of certain events. It is easier to convey specific urgent thoughts through the way of verbal communication than using symbols or other methods. Verbal communication can also prove to be of use in emergencies.
Improved clarity: Verbal communication occurs in either oral or written form; hence, the speaker or writer and the listener or reader can clearly understand the subject or context of the message. Therefore, it improves clarity.
Disadvantages of Verbal Communication
Distorted meaning: Sometimes, the meaning of intended messages can change during verbal communication and drift far from the actual point. These are the barriers that come in the way of effective communication. If instructions are not conveyed properly or are not appropriately understood due to lack of clarity, it can delay work or result in something unexpected.
Inconvenient for long messages: Verbal communication is inconvenient when conveying long paragraphs since it can miss important points and become very lengthy, causing misinterpretation or effective communication. If used for writing long passages, the written form of verbal communication can cause problems for other people to understand the meaning behind it efficiently.
Unnecessary information: When it comes to conveying your thoughts and opinions ideas orally, it can include unnecessary or irrelevant information, leading to a gap in communication and delaying effectiveness.
Misunderstanding: If the message through verbal communication is not conveyed well and with precision, it can create misunderstandings for a communication gap. Putting your ideas or thoughts across to the audience is a critical factor in any kind of communication; hence, sometimes verbal communication can cause misunderstandings if not taken into consideration.
Communication expense: Verbal Communication can be expensive sometimes. Suppose the conversation being held is not in your native language or a language. In that case, you understand the cost of translation and other such factors can be way more expensive than any other form of communication, making it inconvenient.
No place for rectification: While interacting verbally, if an individual says a writes something they did not wish to, it can lead to ruining their reputation tour or the primary intention of the interaction. Therefore, due to no space for rectification, speakers or writers must avoid any kind of errors.
Comparison Table for Advantages and Disadvantages of Verbal Communication
| | |
| --- | --- |
| Advantages | Disadvantages |
| Helps to get work done in less time. | Can result in distortion of the true meaning. |
| It Aids people to give faster feedback. | Causes inconvenience for long messages. |
| Quite convenient for interaction amongst anyone. | The conversation may drift onto a different direction if unnecessary information is included. |
| Very easy to prepare. | Can cause misunderstandings if not understood clearly. |
| Helps to maintain privacy or secrecy of information. | Communication cost is very high in certain cases. |
| Information is conveyed clearly. | There is no place for a correction once the message is sent. |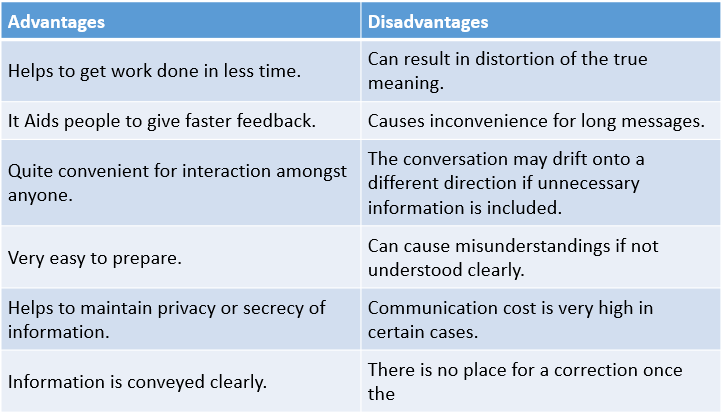 FAQS on Pros and Cons of Verbal Communication
Question 1.
What are the problems one faces while using Verbal Communication?
Answer:
Sometimes, Verbal Communication may be swayed by emotional barriers, speech disabilities, or distractions. The audience may be lacking attention and find speakers uninteresting. It is not rare to find differences in viewpoints of the two sides, leading to a communication gap.
Question 2.
What are the essential things to consider in the subject of Verbal Communication?
Answer:
Several factors can impact one's ability to speak confidently, including their solid command of the matter or word choice. The tone of one's voice, body language, and eye contact with the audience to convince them are necessary skills a speaker must possess.
Question 3.
What is a good example of Verbal Communication?
Answer:
Verbal communication can occur in many various contexts such as sessions, performances, group meetings, seminars, interviews, and so on.